Supplier Article: Why is Speedi-Beet The Original and The Best?
Stock up on Speedi-Beet this Winter…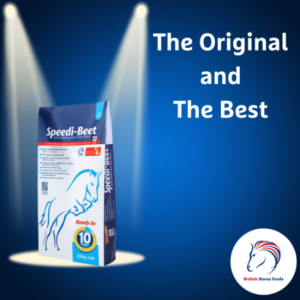 Why is Speedi-Beet The Original and The Best?
1. We use the best beet pulp in the world!
Made using only the best quality British Beet Pulp, Speedi-Beet is non-GM and nothing is added – only sugar taken away!  No glyphosates are used during harvest and no toxic pressing agents. Trust in British Horse Feed's commitment to quality when choosing what beet pulp to stock.
2. 95% Sugar Free.
The ideal fibre source for horses & ponies prone to laminitis or for those that require a low sugar and starch diet.
3. Accredited to the BETA EGUS (Equine Gastric Ulcer Syndrome) approval mark.
You can confidently recommend Speedi-Beet to horses & ponies prone to Gastric Ulcers as part of a balanced diet as we have the official accreditation awarded by BETA.
4. A unique patented cooking process.
Over 120 years manufacturing experience. Using a unique cooking process that enhances digestibility and provides a fast 10 minute soaked beet with consistent quality and consistency. Each bag of Speedi-Beet is made to this high quality standard.
5.We don't make beet flakes for anyone else.
Rest assured, we do not produce any beet pulp flakes for any other entity but British Horse Feeds. British grown, invented and manufactured by a family-run business in Masham North Yorkshire!
6. Best in Class
Eye catching, reusable and retail friendly packaging, available in 20kg. Contains the rewards rosette for the customer Loyalty program.
Make Speedi-Beet your choice of beet pulp this Winter.
Article by Speedi-Beet.