Copdock Mill at PATS Sandown
Copdock Mill exhibited at pats Sandown in March 2023.
The UK's National Spring Pet Industry took place on the 26th and 27th of March this year. Copdock Mill exhibited our own brand products as well as some of our Wholesale offering for both days of the event.
Each day of the show was extremely well received by visitors and exhibitors. The main attraction on our stand was the new
Pigeon range
. This year, due to a huge increase in demand, we were happy to announce three new mix additions to our Pigeon feed collection. These 3 new mixes are listed below:
Junior Pigeon Mix
Developed especially for young pigeons
Formulated without maize
With oil-rich maple peas and nourishing red dari for a vital source of protein
& carbohydrates
Irish Pigeon Mix
High in carbohydrates with maize and dari
With safflower to improve feather quality
Enriched with soya oil to help racing birds to regain strength
Racing Pigeon Mix
Developed especially for racing pigeons
With protein rich mung beans
Enriched with soya oil to help racing birds to regain strength
Other new products we showcased were:
Copdock Mill Wellness Wild Bird Mix + Verm-X
Enriched with award-winning Verm-X, this new mix helps to support the intestinal health and overall well-being of wild birds that are missing essential nutrients from their diet.

Copdock Mill No Mess, No Grow Wild Bird Mix + Verm-X
Verm-X is a unique blend of eleven herbs and spices that with this new mix, naturally supports health, helping wild birds thrive.
New Pond Care Range
After reviewing our Pond Care products at the end of 2022, not only did we decide to expand the range but also expressed the desire to re-brand our collection. New products such as Sturgeon Pellets, a Variety Mix and a Low Density Floating Pellet were added. Label colours were switched to represent the different varieties in the packs as well as adding a window into our packaging for product visibility. An additional size bag was also added to the range.
Exclusive show deals were available on some of the Copdock Mill products. For us as a business it was great to be there and to see everyone – not just those that visited the stand, but to see the other exhibitors too. We look forward to doing it all again at our next trade show.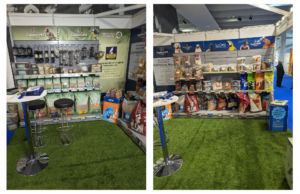 (Pictured below: David Bottazzi – Sales Manager, Barbara Scott – Area Sales Representative, Simon Gladwell – Managing Director, Daisy MacLean – Sales Coordinator)