Where to Buy Premium Puppy Food
Longer days, warmer weather, school holidays. There's lots of reasons to enjoy Spring and Summer, and lots of reasons why it's a popular time for families to purchase puppies. With lots of time on your hands to spend outdoors, Spring and Summer give people the perfect chance to bond with their new pets. Warm, light evenings are the perfect time to go on lovely walks, or put those puppy training tips into effect. But whether your purchasing a puppy, or expecting a litter to be born in your own home, you'll need to think about finding premium puppy food.
Finding Premium Puppy Food for Spring and Summer
All kinds of training and socialising fall under what we call puppy care. Getting puppy care right will help your new pet settle in faster. This can cover everything from toilet training to socialising, and even getting them used to being away from you for a bit.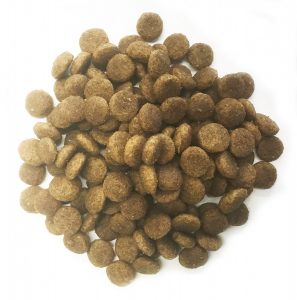 All this care is important for keeping your puppy happy and healthy. Ultimately, it's the health and happiness of your puppy that matters most. But for every leap and bound your puppy makes, they'll need puppy food to keep them going. But puppy food isn't just about keeping a new pooch well fed.
Premium puppy foods contain special blends of nutrients and vitamins to encourage all kinds of positive health effects. From a glowing coat, to a healthy immune system, premium puppy food products from the likes of Copdock Mill will keep your dog healthy, so you can focus on the fun.
In our Brigadier's Choice range of dog foods you'll find our Premium Puppy Mix. Made without wheat or gluten, this mix is easy on your young pup's digestion, whilst high in protein. Minerals, vitamins and pre-biotics in the mix encourage a healthy coat, joints and gut. We also offer a special salmon mix for larger puppy breeds. If you're training your new puppy, you could also check out the training treats and other dry dog foods on offer in our Corporal's Crunch range.
Puppy Food in the UK
If you're raising puppies this Spring or Summer, choose a premium food such as Brigadier's Choice for your new canine friend. The effects of a high-quality diet will show in their healthy growth, meanwhile, our treats are sure to have puppies eager to behave.
Our range of puppy and dog foods can be found at any Gladwells Pet and Country Store. There, you'll find the full range of all Copdock Mill animal feeds. Whether you're a pet owner, bird lover, or farmer, Copdock Mill help you support the healthy development of your animals.
For our trade customers, we're always happy to take on new requests and set up a trade account. Meanwhile, we welcome all kinds of animal owners to our Gladwell's Pet and Country Stores. So why not pop in today. Your new puppy will appreciate it.