Copdock Mill at PATS Sandown
copdock mill exhibited at pats sandown in march 2022.
The 25th show of the UK's National Pet Industry Event took place on the 27th and 28th of March this year. Copdock Mill exhibited our own brand products as well as some of our Wholesale offering for both days of the event.
Each day of the show was extremely well received by visitors and exhibitors. Many people were glad to be back out at a show and mingling with industry friends, old and new. After a number of events were cancelled or moved online due to the pandemic this was one of the first chances for a lot of companies to launch new products to the pet sector.
The main attraction on our stand was the new
Wild Bird range
. Last year the whole range had a packaging redesign. This year we were happy to announce three new mix additions to our Wild Bird feed collection. Originally a Limited Edition selection, these three lines are now moving in to our permanent range due to their overwhelming popularity.
Berry Feast
All-round favourite with birds, with Rowan Berries and antioxidant rich Cranberries
With protein rich split peanuts and high energy Black Sunflower seeds
Caramel Crumble
A high energy mix oozing with caramel flavouring
Includes high energy suet pellets and protein rich Mealworms
Wild Attraction
An enticing blend with fine seeds for small birds
Includes a double shot of Aniseed to attract lots more birds to your garden
Other new products we showcased were:
Copdock Mill Mixed Corn + Verm-X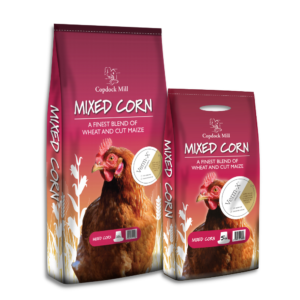 Our Mixed Corn is our finest blend of wheat and cut maize, now available with added Verm-X. Verm-X is a completely natural blend of 11 herbs that aid digestion and support intestinal resilience. This new addition will join our Range Layers Pellets & Mash as the third product in our poultry feed range with Verm-X.
NEW 5Ltr Copdock Mill Wild Bird feed tubs
A new, easy carry size option for some of our Wild Bird lines including the popular Supreme Mix, Seed & Grain Mix, Wheat Free Mix, Sunflower Hearts and Peanut Kernels.
Leo & Wolf Wild Bird bars

Walter Smith Dog treats
Exclusive show deals were available on some of the Copdock Mill products. For us as a business it was great to be back out there and to see everyone – not just those that visited the stand, but to see the other exhibitors too. We look forward to doing it all again at our next trade show.
(Pictured below: Barbara Scott – Area Sales Representative, Daisy MacLean – Sales Coordinator, Simon Gladwell – Managing Director)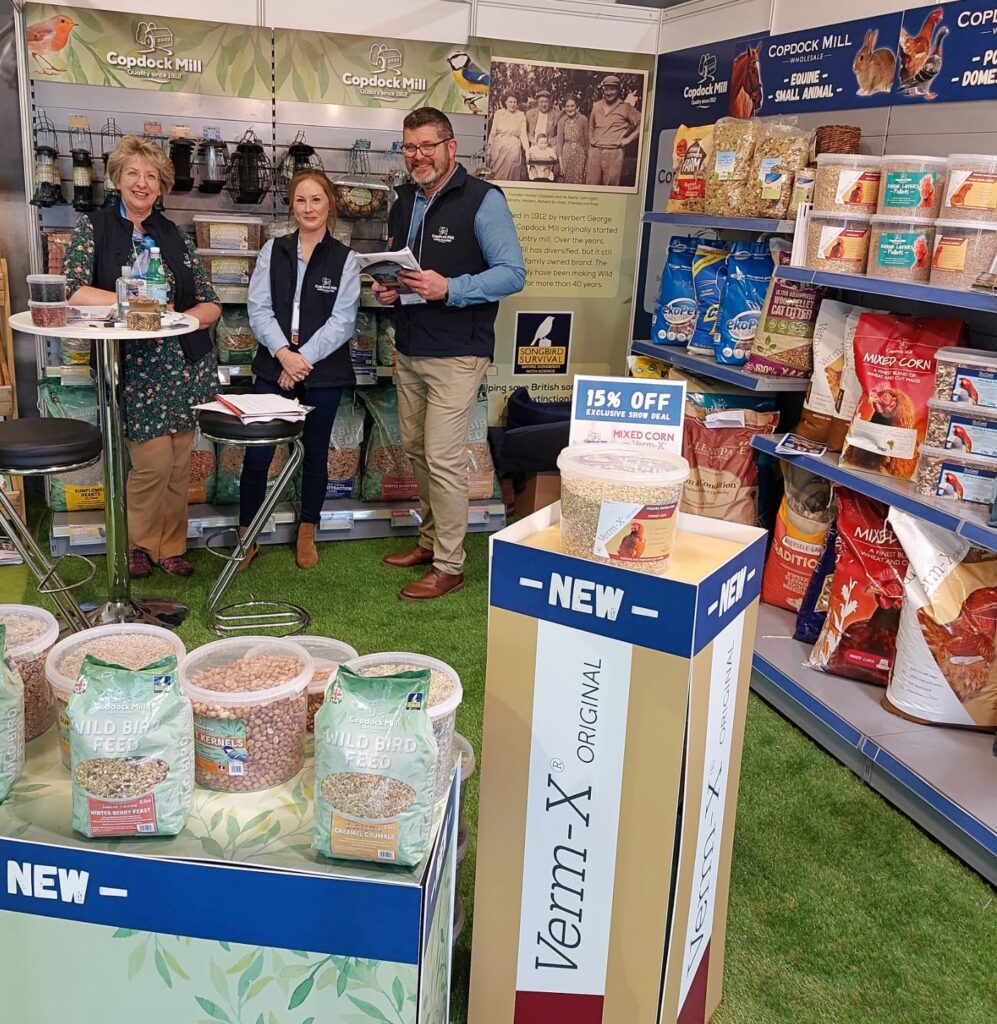 (Pictured below: Mark Wootton – Commercial Director, David Bottazzi – Sales Manager, Daisy MacLean – Sales Coordinator, Barbara Scott – Area Sales Representative, Simon Gladwell – Managing Director)