Gladwells Pet and Country Store – Annual Round Up 2018
A look back at 2018 for Gladwells Pet & Country Stores….
September 2018
Branch Of The Year Award Goes To…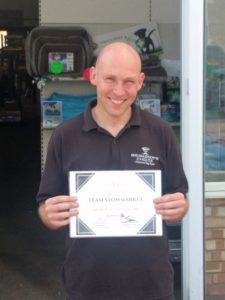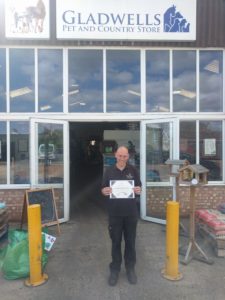 After a year of hard work not only inside, but outside of the 9 stores across East Anglia, the final results are now in.
This highly coveted yearly award is judged on an array of categories including:
Sales Performance
Customer Service
Housekeeping
Interaction with other departments
Congratulations to the Stowmarket store for winning 'Branch of the Year' 2018!
Colin (below) received the certificate with a smile!
Well Done!
The Dog Portrait Competition – Sandwich Store
The Gladwell's Pet & Country Store in Sandwich is hosting The Dog Portrait Competition on Saturday 20th October. The competition is in association with LS Images Photography and Brigadier's Choice Super Premium Dog Food.
The competition is available between 9:30am and 4pm.
Entry is free
All you need to do is bring your dog along to the store for a free photo-shoot. The winner will receive the free framed portrait of their dog!
In addition we are giving away a free Brigadier's Choice goody bag to the first 50 entrants! Plus, on the day, there will be a chance to enter our free prize draw to win a 12kg bag of Brigadier's Choice Super Premium Dog Food!
August 2018
Copdock Mill Support the East Coast Truckers Event
In August Rammy, one of our artic drivers, joined the East Coast Truckers to take disabled, special needs and underprivileged children out for a ride in the lorries.
A convoy of 86 Lorries, 2 Fire Engines, 1 Ambulance and a Police escort drove from Norwich to Pleasurewood Hills where they spent the day. (See more here)
They then went on to the Yarmouth Seafront, filling the coastal town with their 86 strong horn parade! Rammy was joined by Anthony (bottom right) who is 7 years old and by the looks of it very much enjoyed his day.
Well Done Rammy!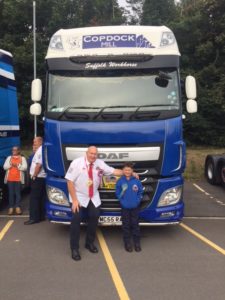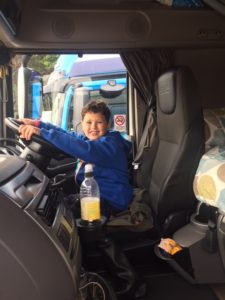 EAST COAST TRUCKERS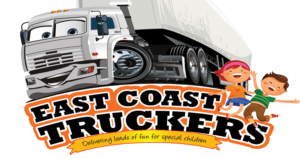 About East Coast Truckers:
"We are a children's charity that helps disabled and disadvantaged children within the East Anglia area and are well known for our Children's Convoy.
In the early 1980's East Coast Truckers was formed as a social club for drivers and their families. The first Convoy was in 1986 with just 22 trucks taking disabled children from Repton House, Norwich to Pleasurewood Hills.
Our 25th Convoy had over 100 trucks. The Convoy is what it is because of the many people that support it and take part, be it a driver, support volunteers and especially the Norfolk & Suffolk Constabulary.
The motorbike outriders do the escort in their own time. Many people are unaware of the other benefits we provide to assist the children and their families. Where funds are available we have provided specialist wheelchairs, paid for special medical assessments and sensory therapy not covered under the NHS.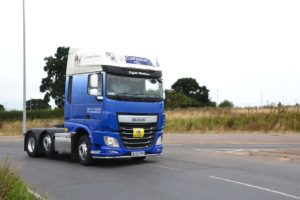 We also provide free respite holidays for families at two sites on the Norfolk Coast, California Cliffs and Vauxhall Holiday Park. Families are given passes to facilities and entertainment to ensure that the maximum benefit is offered.
During the course of the year, we organise days out to local tourist attractions, providing transport, free passes for the children and subsidising the costs to family members.
July 2018
Copdock Mill Support Blue Cross
The Blue Cross Suffolk Rehoming Centre is a charitable organisation based in Wherstead in Suffolk where they have dogs, cats and rabbits that are looking for new forever homes and they help to find the best homes possible for these animals.
For a long time Gladwells Pet and Country Stores have been supporting the Blue Cross by kindly donating to them on a regular basis.
Most recently, Gladwells Pet and Country Store at Copdock, have helped out Blue Cross Suffolk re homing centre by donating a pallet load of surplus dog food to them. This is going to be a great help to them and to all of the dogs that are struggling to find a home.
If you would like to make a donation, you can head down to our Copdock store where there is a drop off bin for the Blue Cross Suffolk rehoming centre where any donations are always greatly appreciated.
For more information about the Blue Cross please visit their website.
Paws in the Park Show – Billericay
The Gladwells Pet and Country Store Team from the Rayleigh Branch in conjunction with Brigadiers Choice Premium dog food attended the new Paws In the Park Dog Show on the 30th of June and the 1st of July at the Barleylands show ground near Billericay.
All our visitors had the chance to snap up some bargains, get some free samples and also receive an in store discount voucher for our Rayleigh store.
As you can see these three cheeky little dogs came and got themselves some bargains and cooled down at our free drink and treat station…It was a very hot weekend and all the dogs and their owners needed to keep cool, it was a great show and we look to attend again next year….
Gladwells Pet and Country Store Peterborough and Brigadier's Choice at the Crowland Show
The Gladwells Pet and Country Store Team from the Peterborough Branch were at the annual Crowland Show to promote the branch. Also in attendance were representatives from our premium dog food brand Brigadiers Choice.
The show this year was very well attended and we had three early visitors looking for some treats!
All visitors to our stands were offered free nutritional advice, samples and money off vouchers for our Brigadier's Choice premium dog food and an in store discount voucher.
The weather was great and we look forward to attending again next year…
Team Gladwells