Dog Supplies for Dog Breeders
When it comes to dog supplies, it's always a good idea to find someone you can trust. Whether it's one dog or several, the welfare of your animals is important to you. You'll want to keep your pet comfy, content and entertained. But most important of all, you'll want to keep your dog healthy. To do that you need to look after their diet and provide the very best food you can.
Copdock Mill
Here at Copdock Mill we pride ourselves on being dog food suppliers with a difference. That's because we supply a range of cost-effective high quality dog food. We supply through nine Gladwells Pet & Country Stores across East Anglia and the south east of England. We also offer a comprehensive range of quality dog beds and dog toys to keep your dog comfortable and occupied. For premium dog supplies we're hard to beat.
What type of food?
Looking at dog supplies to find the best type of food for your pet can be a challenge. Not that long ago most dog food came in a tin, and a lot of it still does. Nowadays, along with wet, raw and fresh foods, dry foods are becoming increasingly popular. These generally consist of pellets (or kibble) made from a mix of ingredients including essential vitamins, oils and nutrients. Many of them are designed to provide a complete diet for your pet. This offers a convenient and often more cost-effective way to feed your dog.
Copdock Mill's range of premium dog food, Brigadier's Choice, is formulated to suit any breed at any age. It's made without wheat or wheat gluten, so it's hypoallergenic, too. Below is a guide to the options available to ensure your dog stays healthy, happy and active.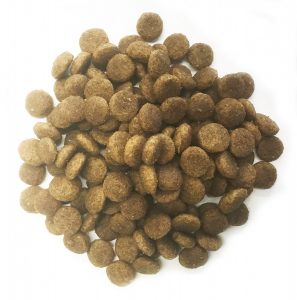 Premium Puppy
This highly digestible kibble provides a good source of protein, vitamins and minerals. Omega-3 and 6, zinc and biotin are added to help ensure your puppy's healthy skin and coat. Other essential ingredients are good for joint repair and mobility.
Adult Chicken & Rice
This palatable food will provide a complete diet for your dog. Because of the protein source it's very digestible. Furthermore, essential fatty acids, zinc and biotin will keep your dog's skin and coat healthy.
Other choices provide a variation in flavour, but with all the same vitamins, minerals and nutrients. This allows you to find the one your dog likes best. Options include Duck & Potato, Lamb & Rice, Salmon & Potato and Turkey & Rice. The potato provides a digestible source of carbohydrates.
Food to suit your dog
We offer food specially formulated for both large breed puppies and large breed dogs, as well as working dogs. If you have a small dog, or a dog that's no longer young, we've thought about you, too. If you're looking for the best dog supplies, you'll find exactly what you need at Gladwells Pet & Country Stores. To make your life even easier, an order & collection service is available at each store.