Your Puppy needs energy to run, explore and investigate the world. So it's no surprise that their food needs to be tailored to suit their early lifestage. Diet is extremely important in supporting growth and mobility in your Puppy.
Brigadier's Choice Super Premium Puppy Feed is a complete food for puppies and young dogs. Containing a highly digestible source of protein, it is also formulated without wheat or wheat gluten. A hypo-allergenic recipe, perfect for sensitive little stomachs! The Premium Puppy feed contains Chicken & Rice for a flavoursome meal.
Not only does this product contain a full complement of vitamins and minerals, but it also contains Omega-3 & 6, Zinc and Biotin to encourage a healthy skin and coat on your Puppy.
Added pre-biotics act to promote digestion through the growth of healthy gut bacteria. With Glucosamine, MSM and Chondrotin Sulphate combined this feed encourages joint repair and mobility in your Puppy!
Find our suggested feeding guide below: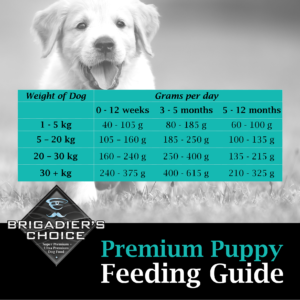 Read More